A graduated bob might just be our favorite style of bob. With gorgeous asymmetrical lines and sloped edges, the graduated style is simply beautiful, adding bounce and body to a bold cut. It works for closely cut crops or longer sweeping bobs, so our latest post is dedicated to showing you some wonderful ideas on how to style your graduated bobs.
This bob hairstyle gallery is full of graduated bobs in different colors, styles and shapes – so we're sure that you'll find something perfect bob cuts for you!
Sweeping Chocolate Brown Bob for short hair
This sweeping chocolate brown bob shows perfectly why a graduated style works so well on a bob cut. This lady's beautiful and rich hair is shorter at the back and graduates to long strands that fall around the face. She's finished her fabulous cut with shorter, choppy layers at the top of the head to create a wonderful curved shape to the crop.
Dark Blonde Sloped Bob – Side View of Graduated Bob Hairstyle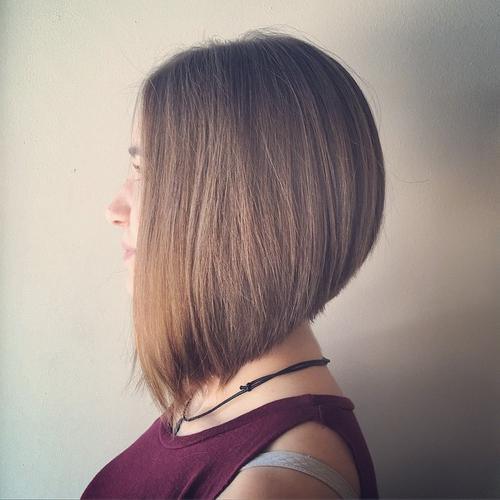 This dark blonde sloped bob is full of class and sophistication, and we just love it! This lady's gone for a very casual and straight style which creates a gorgeous day look, highlighting her dark brown hair which shines beautifully in the light! With a graduated line from front to back, this cut has a gorgeous shape and we just love it.
Dark Brown Bob with Light Brown Highlights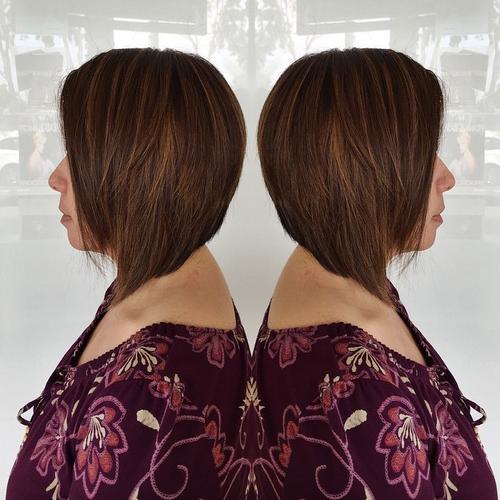 The colours in this cut are simply gorgeous as we're sure you'd agree – it might just be one of our favourites. It's a beautiful rich brown which is full of gorgeous lighter brown highlights throughout the cut to add lift to the tone. It has longer strands towards the front of the cut and graduates to a shorter shape towards the back, with a few shorter strands to frame the face!
Curly Blonde Graduated Crop Bob Haircut with Glasses
This marvellous graduated crop is full of wonderful blonde tones, from a lighter blonde colour to a gorgeous rich caramel blonde, and we just love the collection of blonde hues at work on this graduated crop. This stylish lady has gone for tight ringlet curls throughout to bring the cut to life with plenty of bounce and body and we just love it!
Striking Honey Blonde Crop
In what might be our favourite colour of this entire gallery, this gorgeous honey coloured unique crop is certainly stealing the show! In a gorgeous warming tone, this sweeping and striking graduated bob is full of sharp edges and cropped layers to create a wonderfully shaped bob! We love the longer strands which frame the face!
Sweeping Brown Bob with Highlights – Graduated Bob Hairstyle for fine hair
This beautiful and sweeping brown bob has a graduated shape in a completely different style, and we absolutely love it! With one side of the hair kept close and cropped, the other side falls into a gorgeous sweeping fringe which falls right across the forehead and creates a marvellous finish. This lady has highlighted her rich hair with lighter brown for a beautiful finished result.
Warm Blonde Straight Crop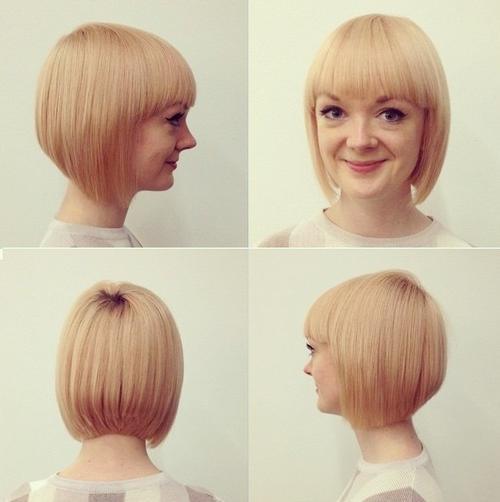 This warm blonde straight crop is simply stunning and striking; the perfect summer look! In a beautiful light tone, this straight and sleek crop is gorgeous. Finished with a gradual line from the back of the head where the cut is shorter, towards a longer length of hair at the front. This lady has gone for a wonderful fringe to finish the cut!
Bouncy Brown Bob with Side Fringe
This cut might just be one of our favourites because we absolutely adore the shape it creates! This gorgeous lady has gone for short and bouncy layers towards the top of the head, graduating to longer layers towards the bottom to create a wonderful, curved shape. Finished with a side fringe to add a stunning shape to the cut, we just adore this look!
Gorgeous Layered Red Asymmetrical Bob Bob Haircut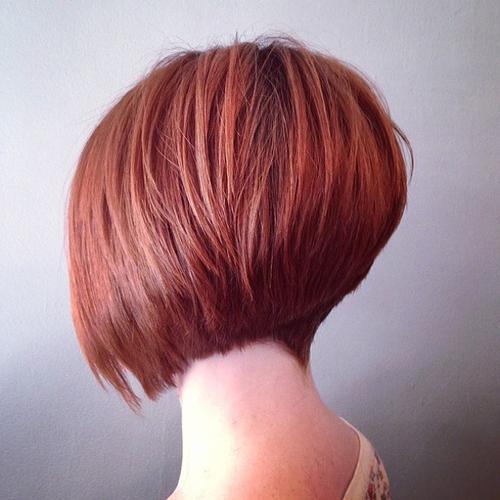 We're starting our wonderful graduated bobs gallery with this truly beautiful red crop with an asymmetrical finish. This lady has gone for a close crop at the bottom layer, and then a gorgeous and long sweeping layer at the top, which graduates from a shorter length to a longer length that falls to frame the face, creating a beautiful curved silhouette.
Rich Brown Graduated Bob Cut – Side View
This gorgeous and rich brown graduated crop creates a simply stunning shape on this incredibly fashionable lady. She's gone for a shorter crop towards the back of the head, with a much longer sweeping section towards the centre and it's finished with a shorter, sweeping section that frames the face. We adore this deep brown colour too!
Bright Blue Blunt Choppy Bob – Trendy Graduated Bob Haircut
Short Bob Hairstyles – This bright blue blunt choppy bob is incredibly fashionable and edgy, just guaranteed to ensure you're the centre of attention! Finished in a choppy line that starts just under the ear towards the back of the head and subtly graduates to a slightly longer section at the front. This incredibly gorgeous graduated bob is so stylish, we love the textured finish!
Dark Brown Bob Full of Body – Easy Back to School Hair Idea
This dark brown bob is glossy and in absolutely fabulous condition, which is just one reason why we're so taken with it! It's full of bounce and body, creating a gorgeous shape – especially as it falls in a slightly graduated line from the back of the head towards the jaw line. Finished with a long side fringe to frame the cut, we think this lady looks incredible.
Graduated Blue & Black Bob with Blunt Fringe
This might just be one of the most striking bobs in this entire collection, and we think it is simply gorgeous! In a beautiful glossy black with subtle flashes of blue, this bob is graduated from a longer section around the front of the face and cut short and close towards the back. Finished with an incredible blunt and straight fringe, we adore this look.
White Blonde Crop with Long Sweeping Fringe – Easy Daily Hair Ideas
Cute bob hairstyles – Layered Graduated Bob Hairstyle for thin hair – This white blonde crop is simply stunning – the color is so light and bright that we adore it! This lady has gone for a wonderful graduated bob, finished short and close towards the back and sloping to a wonderful, long and sweeping shape that frames around the face. This lady's amazing fringe is a beautiful long and sweeping shape this creates a gorgeous finish to the cut.
Black and Red Highlighted Bob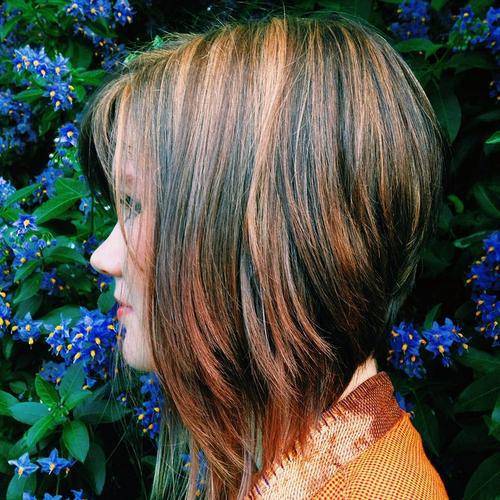 This beautiful black bob is highlighted with gorgeous red streaks to create a truly wonderful and lightened effect which we just adore. This lady has gone for a wonderful and loosely cut graduated line from the front of the hair to a shorter section at the back. Finished with a side fringe, this wonderful cut would look perfect straight or curly!
Caramel Blonde Sloped Cut – Graduated Bob Hairstyle for Women Over 30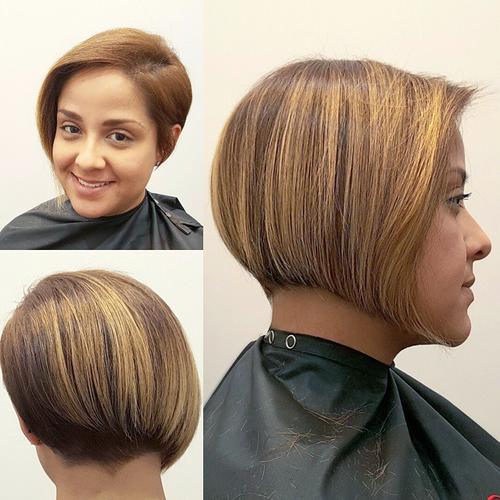 This gorgeous caramel blonde curved cut creates a simply stunning shape and is most definitely one of the most unique crops in this graduated bob collection! This lovely lady has gone for a short cut on one side of the head which graduates to a sweeping fringe on the other side, creating a fabulous graduated crop which frames the face perfectly.
Shoulder Length Graduated Blonde Bob
This shoulder length graduated bob has a truly gorgeous shape which is perfectly symmetrical from the back of the head! With longer strands of hair falling towards the front on each side and a blunt, shorter line that frames the back of the head around the neck, this cut creates a stunning shape, especially with this lady's beautiful bright blonde colour!
Choppy Brown Graduated Bob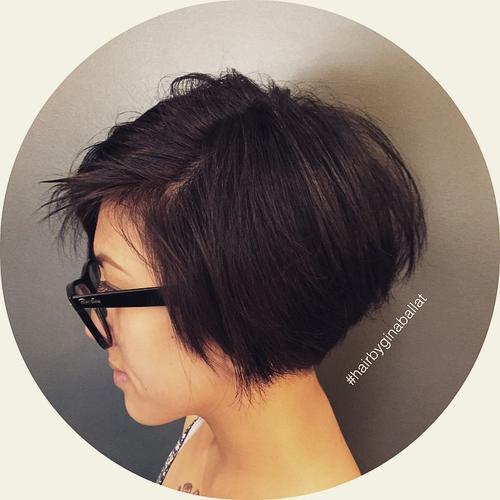 This gorgeous crop is one of our favourite ones of the bunch – in no small part thanks to the amazing choppy layers found throughout the cut! This adorable lady has gone for the A deep brown colour which accentuates the short and graduated crop which forms a close crop around the back of the head to create a wonderful bounce to the cut.
Bright Blonde Top Layer Bob
This lady's gone for a simply stunning colour combination which brings this gorgeous cut to life! With a dark brown layer that forms the bottom of the cut, this lady has lifted the body of the hair with a bright blonde colour which falls across the majority of the cut. This beautiful lady has gone for a fringe to frame the face, and a slight graduating line from back to front.
Shaved Sides Blonde Bob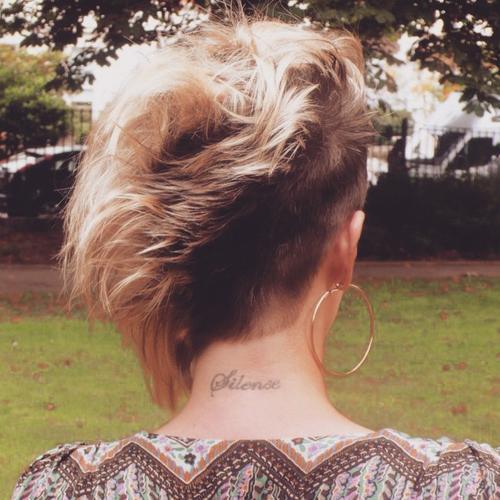 In perhaps the most daring of all cuts featured in this blog, this lady has been brave and we think it has most certainly paid off! With a shaved cut on one side exposing her gorgeous rich dark brown natural hair, graduating to a longer bob style on the other side that is finished with beautiful blonde ends, this edgy cut is striking and stylish at the same time.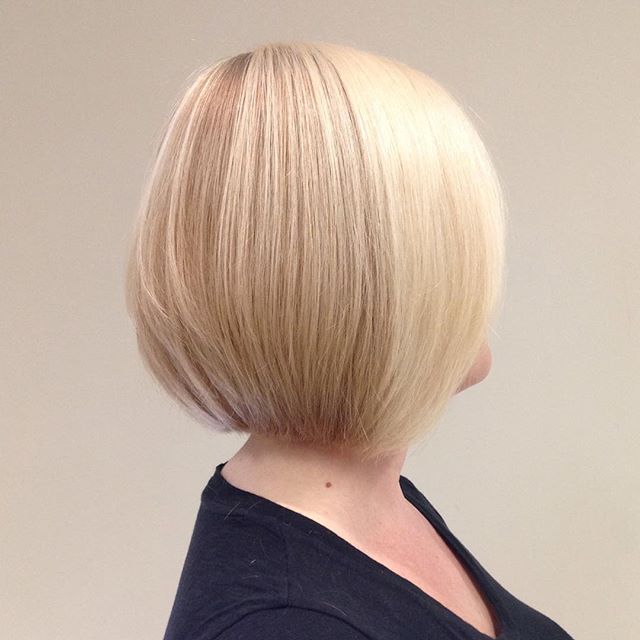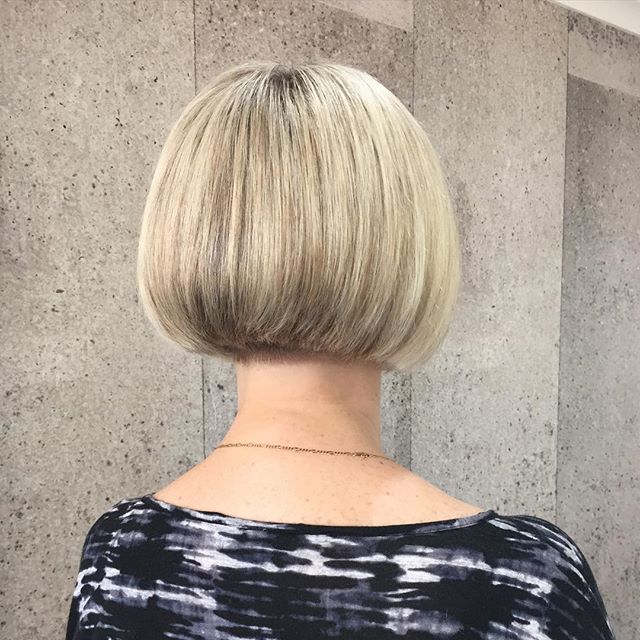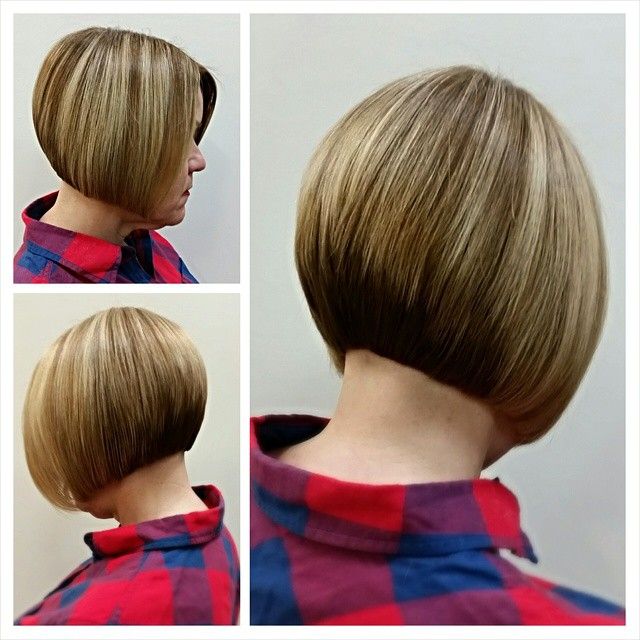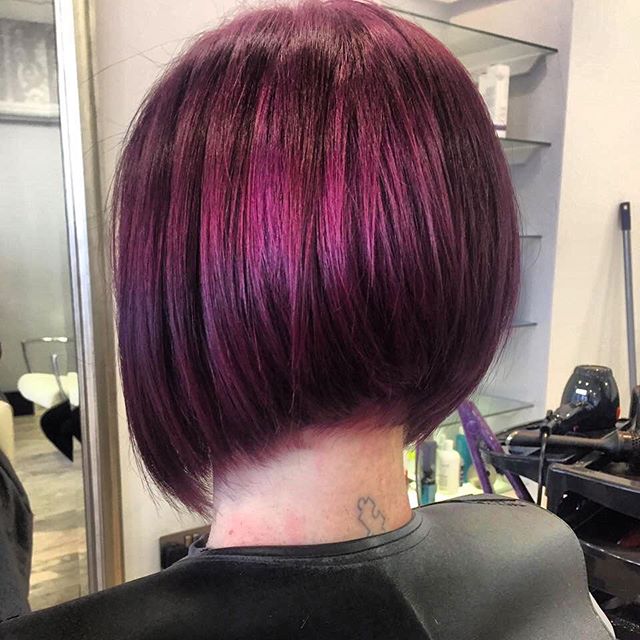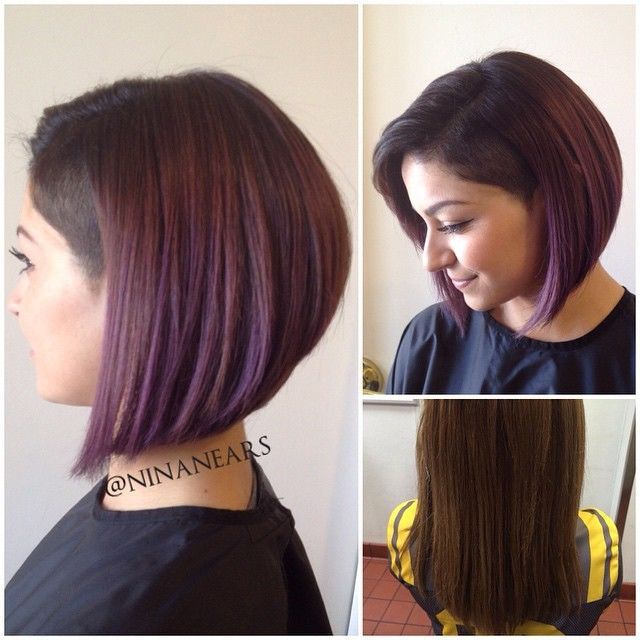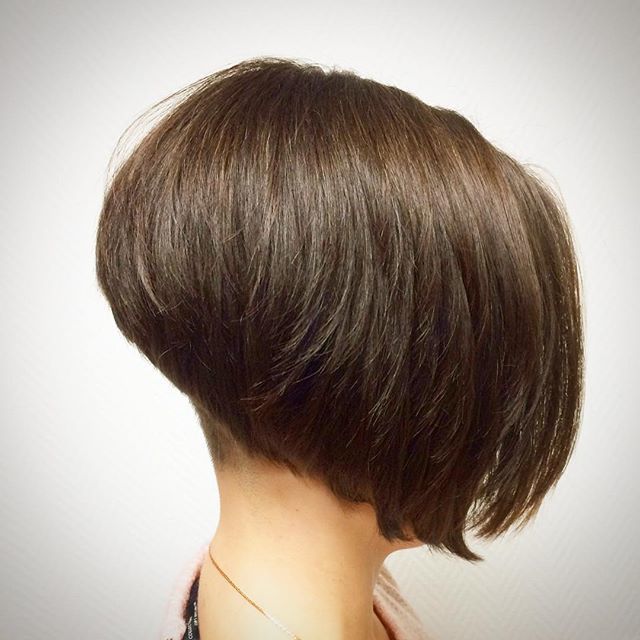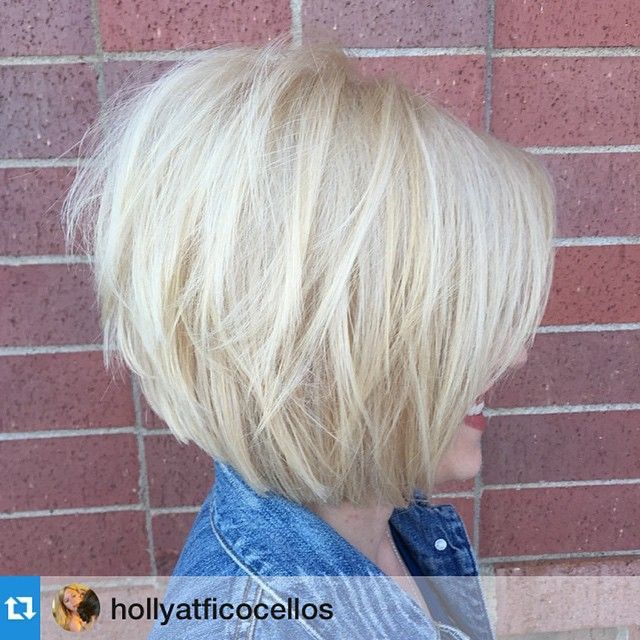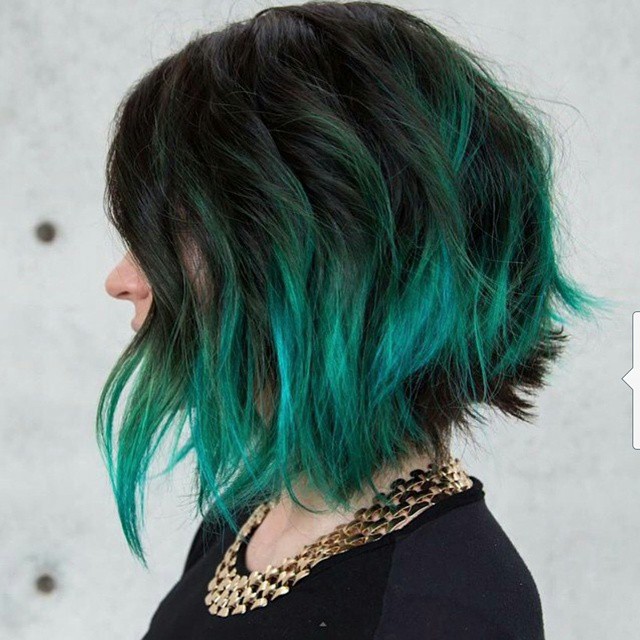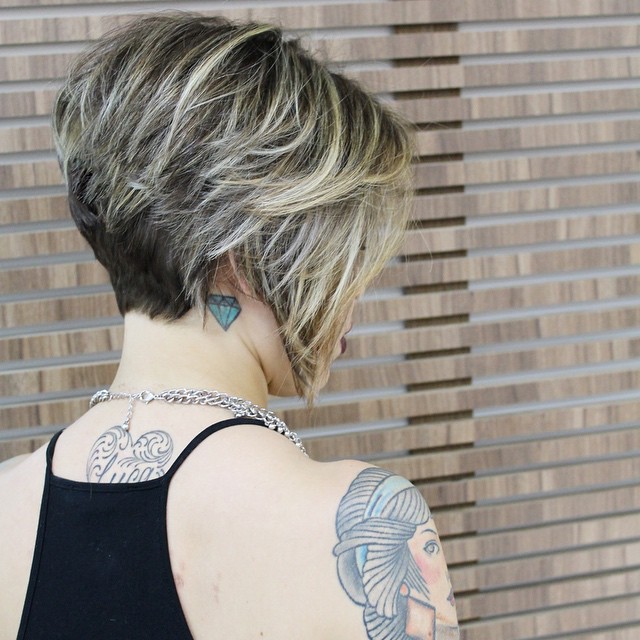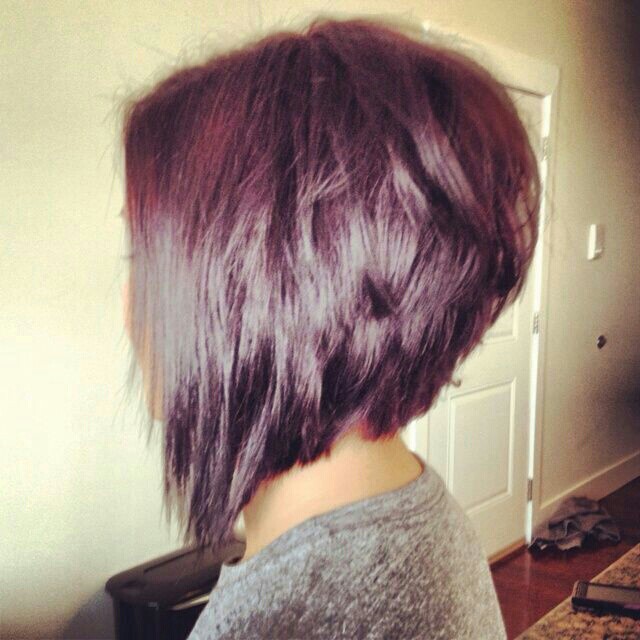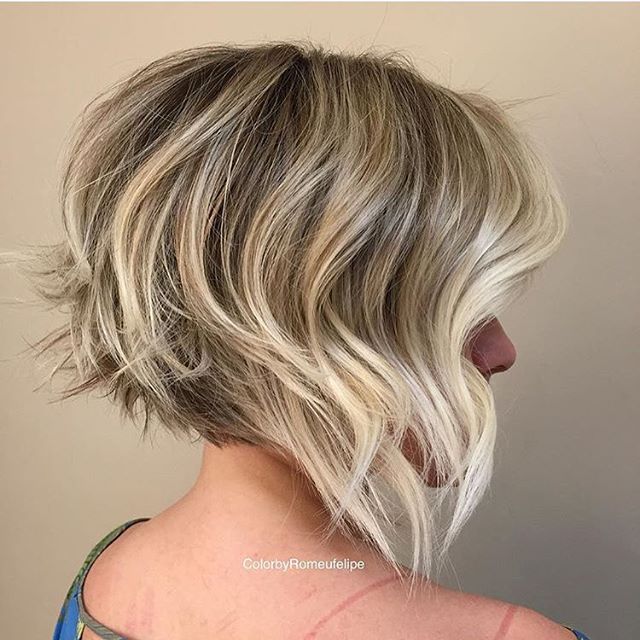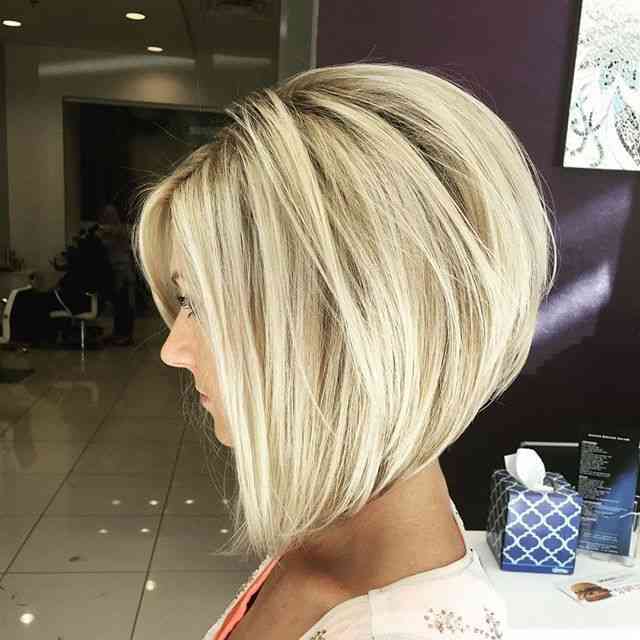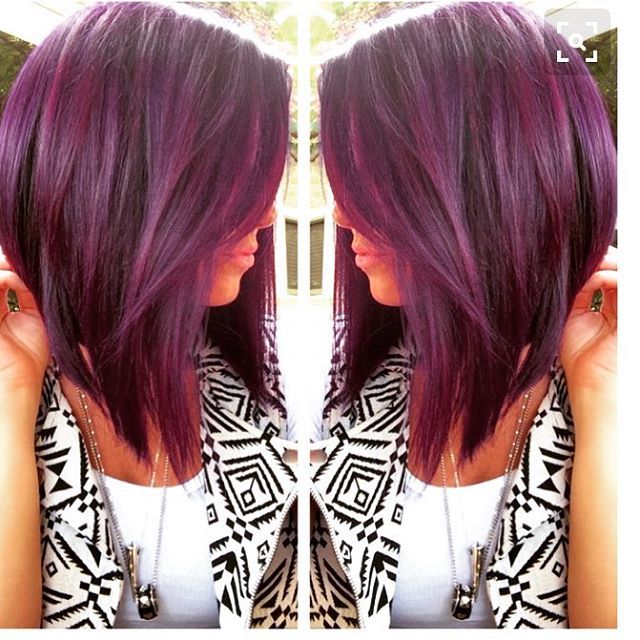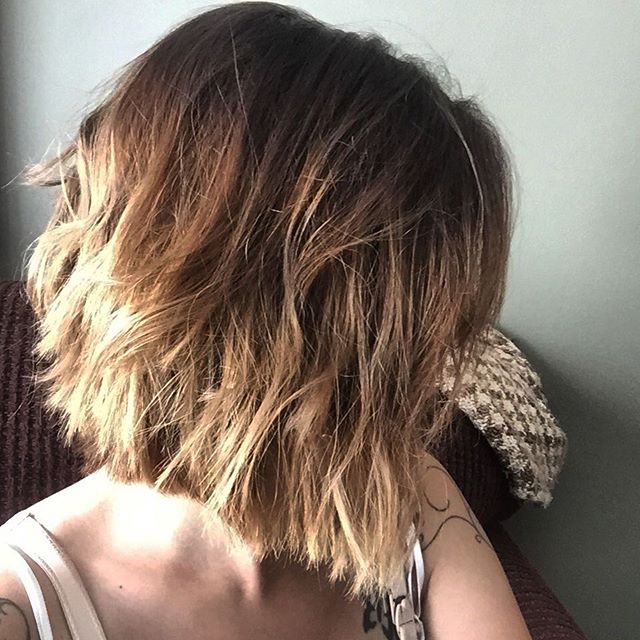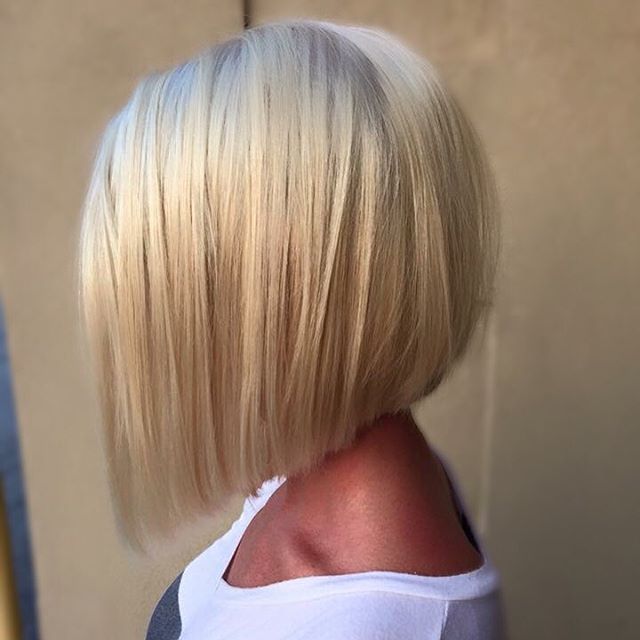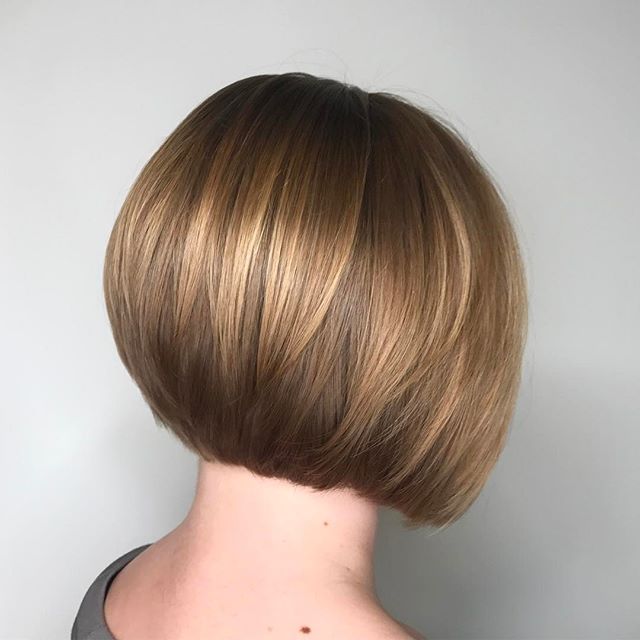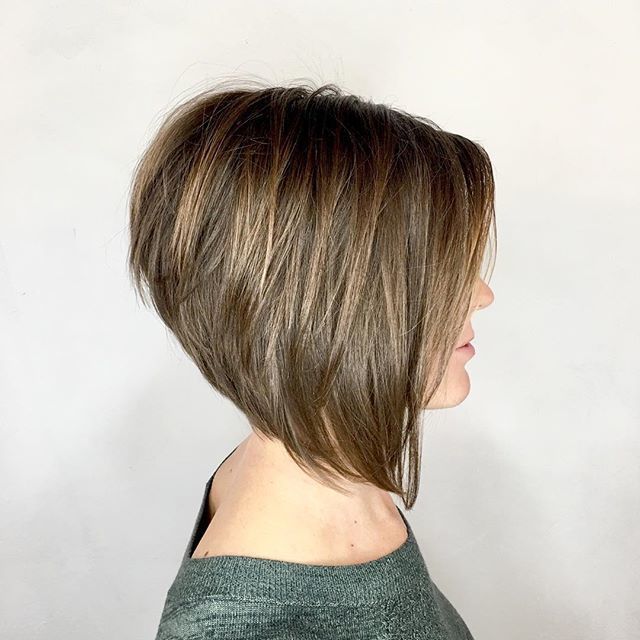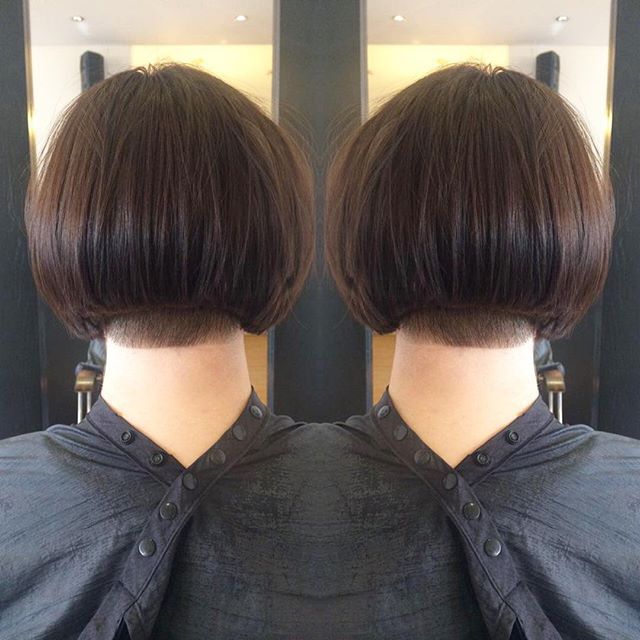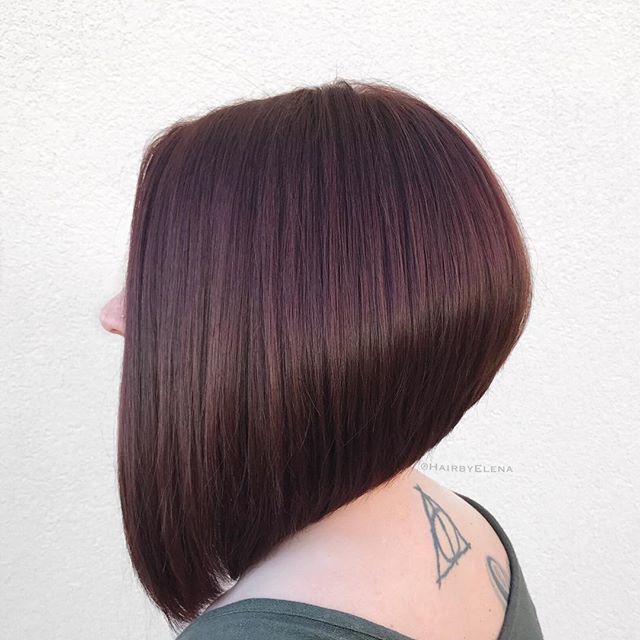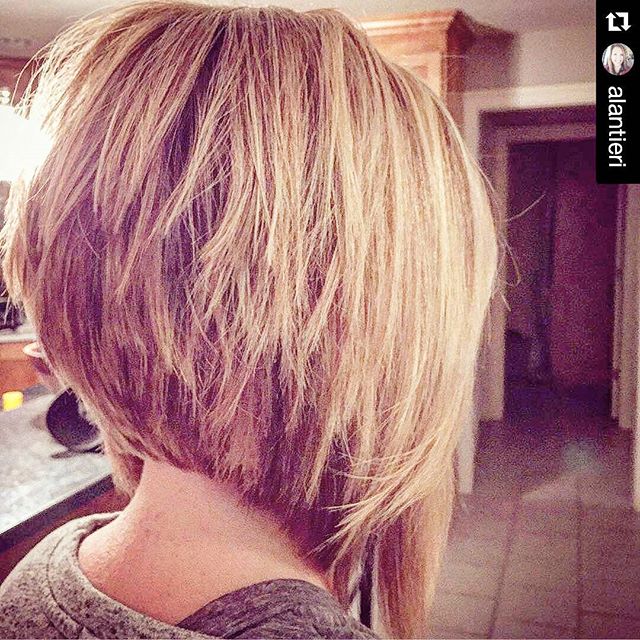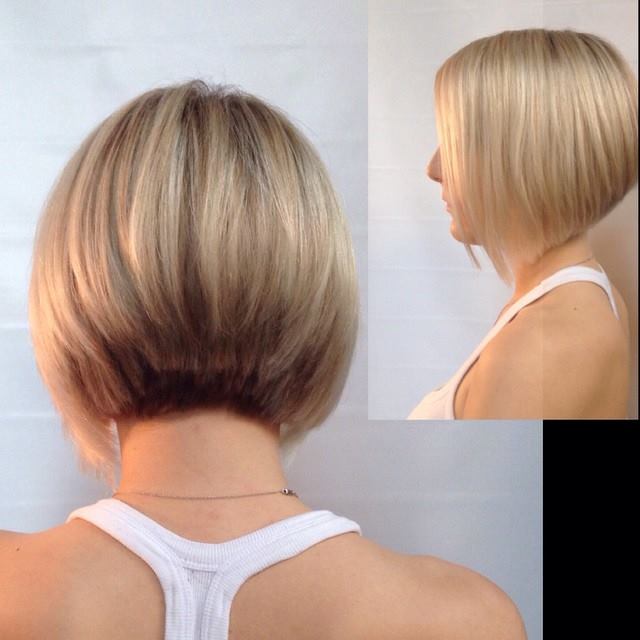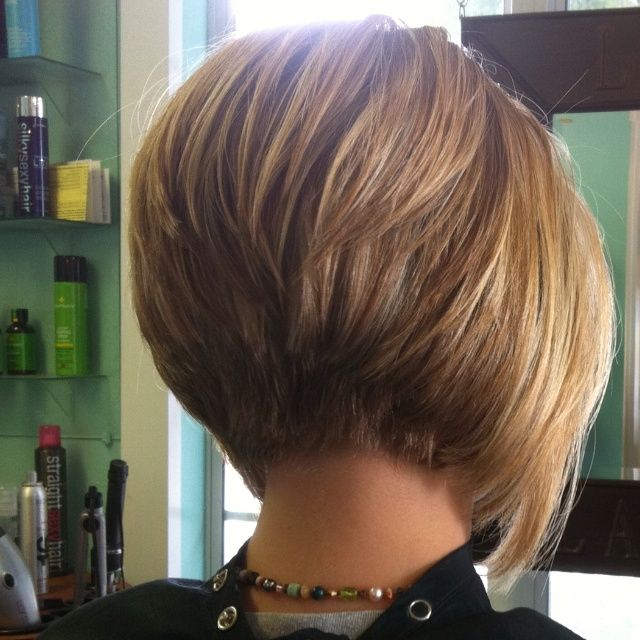 StylesWeekly strives to bring you the latest in hair trends for all types of cuts and stylish. If you're looking for a graduated bob then we hope you found the perfect inspiration in this post – but don't forget we have thousands more gorgeous styles throughout our blog!