This post is designed to provide you with the ultimate hair inspiration for a special occasion or important event – and trust us, we really have gathered some of the most beautiful hairstyles. Whether your hair is long, short, curly or straight, this elegant hairstyles gallery is guaranteed to have the perfect hair inspiration for your wedding, party, ball or date night. Be sure to let us know which one is your favourite and if you recreate any of these looks!
Slicked Back Quiff with Low Bob
This stunning lady looks a million bucks – and we largely think that that is down to her gorgeous and elegant hairstyle. The front of the hair has been swept back into a huge and stylish quiff. The sides of the hair have been slicked back, and the ends have then been worked into this gorgeous brown bob with a curved finish.
Elaborate Twisted Bun with Pearl Hairband
This lady has incredible naturally long and thick hair – but it's been styled to perfection in this remarkable elegant up do. She's started by slicking all of the hair back from around the face and creating a ponytail. She's separated the ponytail into several chunky sections and created this incredible twisted beehive bun. A pearly hairband has been wrapped around the bun for this classy finishing touch.
Elaborate Twisted Bun Finish
If you're blessed with lovely long hair which has an incredible ombre blend of colours, then the best way to show off that colour transition is with an elegant up do which is simply stunning! Her hair is copper and blonde, and she's created rows of gorgeous braids from front to back, working the ends of her hair into this elaborate twisted bun which is perfect for a wedding guest style.
Copper Curly Style
This absolutely stunning copper style has been worked into one of the most gorgeous and stylish curly hairstyles we ever did see! Her gorgeous hair is a shorter layer towards the front, creating a loose sweeping fringe effect. She's kept the top of the hair straight and absolutely full of body, and worked these amazing tight ringlets from the ear length down for the most sophisticated finish we ever did see.
Sweeping Wedged Bob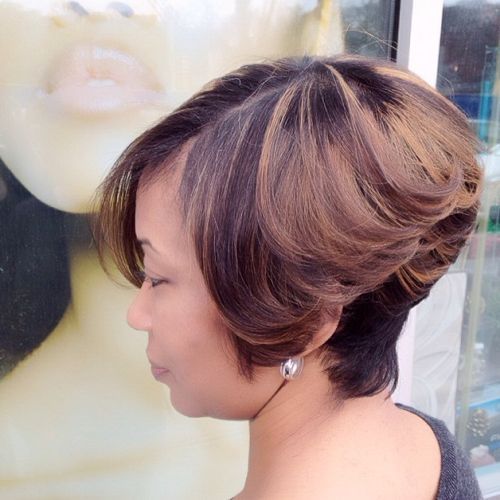 This lovely lady has one of the most striking wedged bob styles that we ever did see, working from a lovely longer section which frames the face perfectly, to this gorgeous curved effect at the back, absolutely full of short and choppy layers. To show off the texture of this incredible cut, this lady's worked caramel highlights throughout and gentle flicked the ends of the hair backwards.
Fishtail Braid with Luscious Long Curls
This remarkable style is the most beautiful finished look we ever did see, just perfect for a bohemian finish which we simply adore. Her amazing long hair has been worked into these gorgeous and remarkable ringlets from top to bottom. To finish off the style, she's created two braids on either side which meet meet as a fishtail braid in the centre of the back of the head. A gold leaf crown hair piece finishes the look to perfection.
Tightly Curled Graduated Bob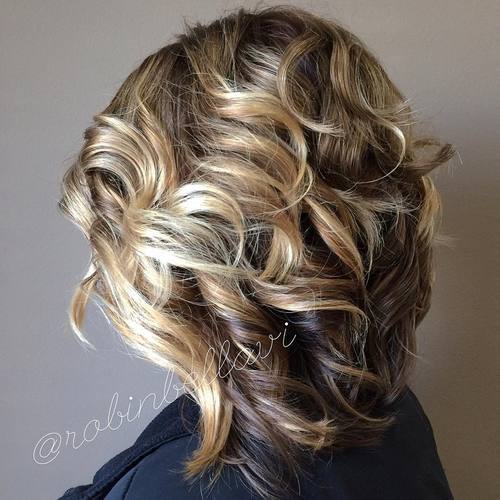 You can bring your graduated bob to life with lots of tight ringlets, just as this lovely lady proves! Her hair falls in longer sections around the front of the face and works into short, choppy layers at the back of the head to create this wonderful and wedged effect. The curls add a bouncy and voluminous finish which brings these gorgeous highlights to life!
Curly Up do with Pearl Hair Accessory
This beautiful hairstyle is absolutely stunning, and so classy you could wear it for your wedding day! Her lovely brown hair is full of tight curls throughout, and she's created this stunning curly bun style at the back. The top of the hair has been swept back into this quiff section, and she's added a pearl hair accessory around the top for this immaculate finish.
Sleek Twisted Low Bun
This gorgeous blonde look is sleek and sophisticated, just perfect for a ball or a black tie event. This lady has swept her bright blonde hair backwards at the top, creating this voluminous yet smooth style. The ends have been twisted and curled to create this gorgeous twisted bun at the bottom of the head, fastened with diamante butterfly grips for a glam and glitzy finish.
Graduated Side French Braid
This stunning hairstyle is the most unique finished look we ever did see – so elaborate and impressive! This lady has styled her stunning and glossy brown hair into this graduated french braid on one side, sweeping all of the hair into this gorgeous braid which runs from the fringe section of the hair right down to the bottom. We love this twist on a french braid!
Braided Half Up Half Down Style
There are so many beautiful elements of this stunning hairstyle that it's difficult to know where to focus on! Firstly, these beautiful brown locks blend a dark and light brown through a balayage blend, and have tight ringlets working from top to bottom. She's then created two french braids on either side of the head, and pinned them across the back of the head for this half up half down style.
Double French Braided Bun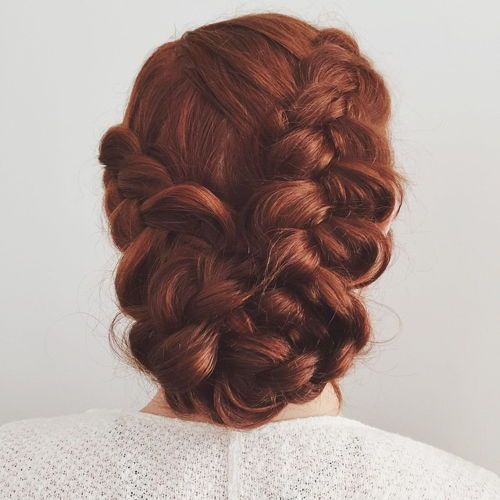 This absolutely stunning braided hairstyle is the most beautiful shade of red we ever did see; warming, glossy and oh so gorgeous. She's separated the hair into two sections, and worked a chunky french braid into each section on either side of the head. The braids meet in the middle, and she's twisted them to form this beautiful braided bun at the back of the head.
Incredible Pulled Braid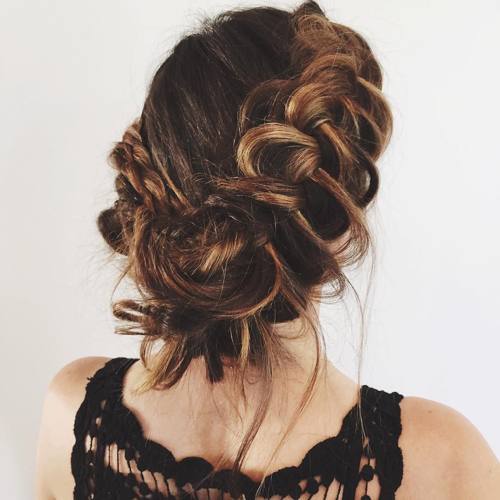 This lady has amazing hair, working from a deep and dark shade of brown through to a stunning caramel tone at the tips of the hair. She's chosen to show off the incredible colour blend with this amazing messy braided style. She's separated the hair into two sections, braiding each, and then pulling the sections loose to create this elaborate style. The braids meet at the bottom for this beautiful look.
Glossy Swept Side Style with Ringlets
This lady has created a simply stunning side swept elegant hairstyle to match her absolutely beautiful face! Her long and glossy black hair falls down well below her shoulders, and has been worked into the most stunning ringlets which cascade down her back. She's pinned the hair to one side of the head so the curls fall down one side in the most striking end result.
Swept Low Bob with Floral Finish
This incredible blonde hairstyle is totally unique and oh so dramatic, but we think it looks beyond gorgeous. In a gorgeous golden blonde colour, she's added loose curls throughout, and swept the length of the hair up from underneath to create this incredible smooth bun effect. She's finished the bun off with gorgeous floral decorations.
Dramatic Twisted French Braid
This absolutely beautiful and romantic twisted braid is the perfect princess hairstyle – and who doesn't want princess hair? The hair has been separated into thin sections and twisted from the front to the back, then pulled into this chunky french braid which falls down her back in a wonderful style, showing off the gorgeous collection of blonde highlights that work through her hair.
Tightly Waved Hair with Separated Styles
This absolutely incredible long hair is so stunning and striking we simply cannot get enough of it! Falling right down the length of this lady's back, and transitioning from an incredible shade of caramel blonde at the top to a light and bright blonde at the end, this lady's worked her hair into gorgeous tight waves from root to tip. She's created a unique braided and segmented section at the top of the hair using cute little clips for effect.
Dramatic and Voluminous Swept Look
This lovely lady has an absolutely stunning shoulder length bob which is full of gorgeous choppy layers throughout, creating this incredible finished silhouette. To show off the incredible layers at work, combined with the gorgeous ombre blend from brown to blonde, this lady has flicked out all the layers of her hair in this amazing finished look.
Loosely Waved Blonde Bob with Side Fringe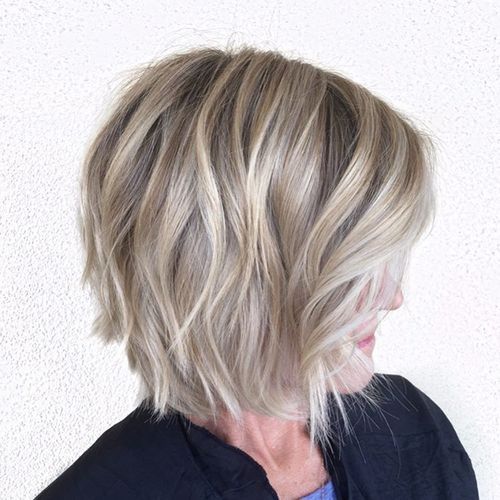 This absolutely stunning jaw length bob is to die for. We adore this fabulous light blonde and silver bob, full of gorgeous light highlights which bring the lovely layers to life. The bob has a deep side parting with an incredible sweeping fringe effect, and she's added loose and light waves from top to bottom for a subtle voluminous finish.
Pinned Copper Ringlets
Finishing the gallery with a lovely and strong style, worked to perfection on this beautiful lady's vibrant red hair! Her hair is a gorgeous coppery tone, which tight ringlets have been worked into from top to bottom. This lady has swept her hair into this loose bun with lovely ringlets left out to fall framing the face perfectly. A chain has been wrapped around the hair for an incredible bohemian finishing touch.
So there you have it! This incredible and diverse gallery is full to the brim with elegant hair inspiration for your formal occasion – but which look do you prefer? Let the Styles Weekly team know!